Paradise Found at Anantara Veli Resort Maldives
24 hours of bliss in an over the water bungalow on a private resort island in the Maldives, Anatara Veli Resort checked a major bucket list item for us.
Hot Take: Very spendy, but truly a paradise on earth…do it if you can! (5 stars)
Pro Tip: Make sure you understand the transportation logistics as seaplanes and speed boats can add many, many hundreds of dollars to your trip cost.
On a small collection of private islands in the North Male Atoll of the Maldives, Anantara Veli Resort's overwater bungalows are a fantasy beach vacation come true. As one of many ultra-high-end resorts in the Maldives that dot the vast expanse of the warm Indian Ocean, we were lucky enough to spend 24 hours in this playground for the well-heeled. Other elite Maldivian resorts might be just as nice, but we'll always remember the Anantara Veli as the nicest place we have ever stayed in our lives. Rather than just type a commercial for the resort (we think the photos sell it well enough), we wanted to attempt to describe the ethos of being in such a place.
Firstly, the staffing is impeccable (and it shows). Of course they're friendly (most tourist facing staffs are), but the sheer number of staff members (we think there was a 4:1 staff to guest ratio) meant that every detail was meticulously maintained and ever whim ready to be satisfied at a moment's notice (though they were never in the way). It gives the visitor the illusion of naturally manicured perfection (like a fully made-up and teased starlet in a movie scene who 'just woke up looking like this').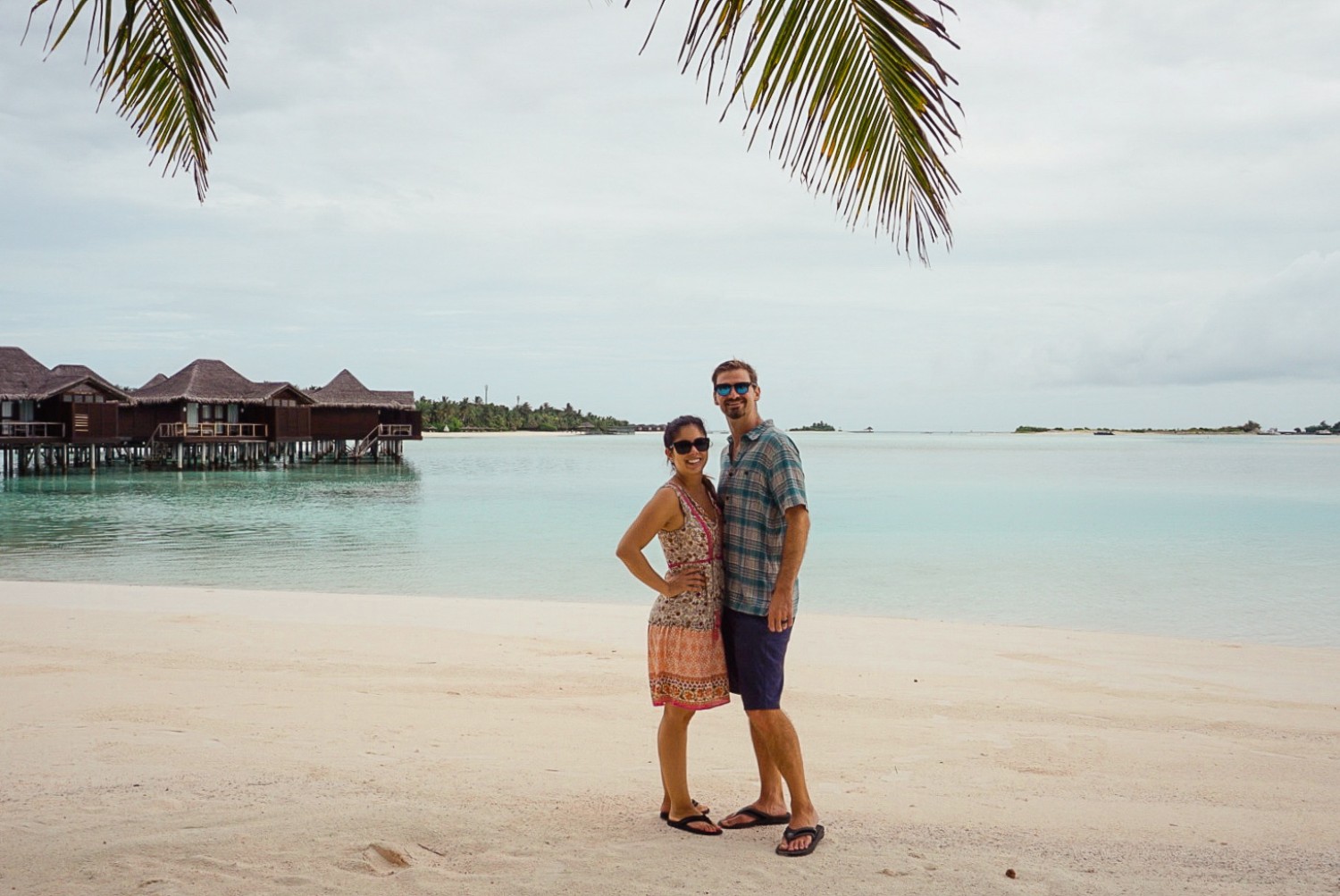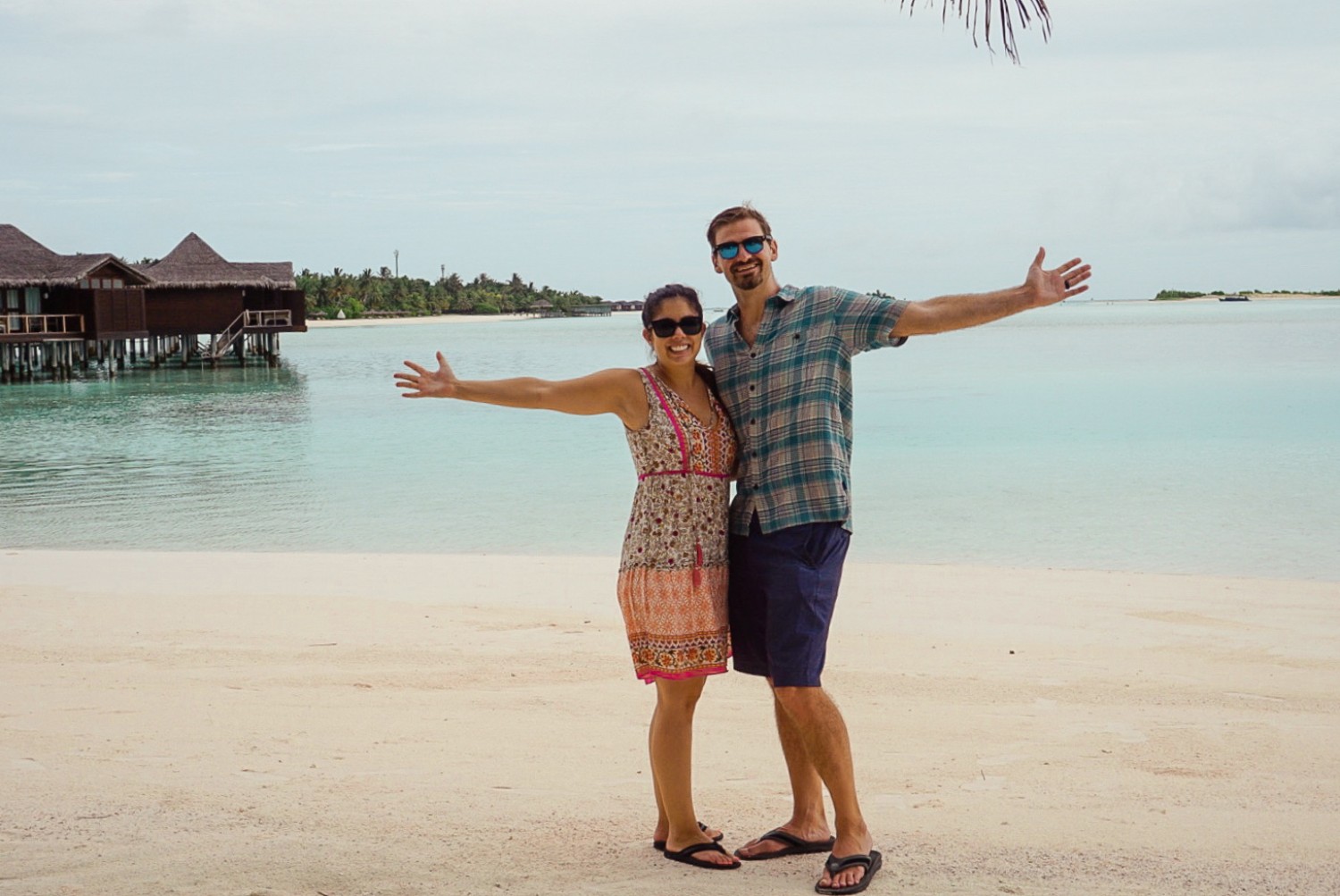 Secondly, the food is top-notch. Now we have been blessed enough to have eaten more than our fair share of gourmet meals in our lives and we usually cringe a little at the thought of 'resort food' that comes included in an all-inclusive package. However, at resorts like the Anantara Veli the food is on-par with a fancy steak/seafood restaurant. Though nothing was overly inspired or experimental, their mastery of the classics was first rate. Furthermore, that service we spoke about also spills into the restaurants where the staff went out of their way to accommodate Kelly (who picked up a cold while travelling) with amazing ginger infused teas. The next morning, we were also treated to the best buffet breakfast that either of us had ever had (complete with egg and crepe chefs). Being able to eat like royalty (not just fattened and gorged like a cruise-ship buffet) really made a huge difference towards pushing our experience beyond our expectations.
Finally, the combination of water, sand, and bungalows is magical at Anantara Veli. The water is startlingly clear (which is why so many combinations of blues and greens can be seen). The sand is amongst the cleanest, finest (read: smallest particles), and softest beaches we have ever felt. And the overwater bungalows that frame the scene are marvelous and provide a pinch-me-am-I-really-here element to all of it. To say we are hopelessly in love with the Maldives (and Anantara Veli) would be a gross understatement. The only sad part was leaving (and realizing we might never experience another beach setting quite as sublime).