48 Hours in Kuala Lumpur
Kuala Lumpur is a modern metropolis desperately seeking to throw off its third world past.
hot take: Not a bad place for a long layover, Kuala Lumpur is a bit too commercial while lacking the polish of a true modern metropolis. (2.5 stars)
pro tip: Traffic is a real killer in KL, but the trains are excellent (and cheap), so choose lodging with easy access to the downtown area.
As Malaysia's capitol and largest city, Kuala Lumpur is a city of concrete and contradictions. For example, KL's dizzying array of some of the world's tallest buildings (its has the world's tallest twin towers and its 244 high rise buildings place it at #10 in the world) seems at odds with Malaysia's relatively low economic GPD and per-capita income rankings (Malaysia is on par with Latin America or some former Soviet states). Kuala Lumpur's population of 7.25 million people (approximately 1 in 4 of all of Malaysians live in KL) are packed into these gleaming high-rises mostly built in the last 20 years (or the remaining slums awaiting gentrification that they overlook). With more malls then a place would ever need (KL is often ranked in the top 5 shopping cities in the world), what Kuala Lumpur lacks in charm it tries to make up for in retail options.
Blessed by geography (Malaysia is at the end of the terrestrial Silk Road as well as the northernmost ocean juncture where the Indian Ocean meets the Pacific), Kuala Lumpur today is a moderate Muslin country (a business decision by a former king to lure more trade from the Middle East away from more prosperous Singapore) and is rapidly industrializing to be a modern hub of manufacturing. While the city-state of Singapore is still far wealthier per capita (and a cleaner place to visit/live), Kuala Lumpur seeks to replicate Singapore's success with a more Muslim twist. We spent 5 nights in Kuala Lumpur (mostly as a layover to connect us from Bali to Siem Reap) but (unless you are a shopaholic or need time to work, like us) we would recommend the following 48 hours (or 2 nights) itinerary as plenty of time.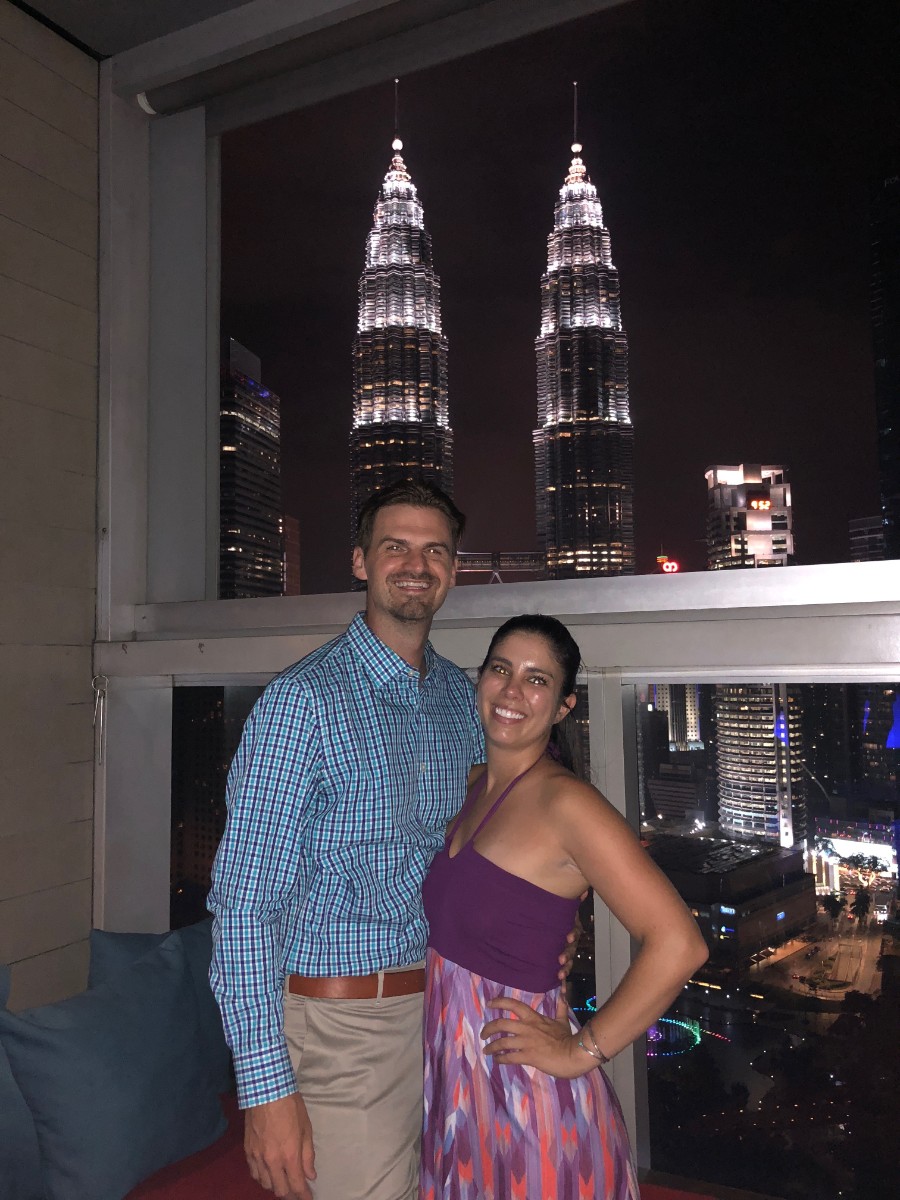 Day 1: Arrive then Skyline
Arrival at Kuala Lumpur International Airport (KLIA) was easy and pleasant (though it's no Changi Airport in Singapore, it was still far better than any airport experience in the U.S.). For solo travelers at rush hour (10a-7p), there is a very nice train that will take you from KLIA to downtown for 55 MYR (about $14)…but a Grab car only costs a fixed 65 MTR (about $17) to anywhere in or near downtown KL, so don't overthink it (we took the Grab and fought the traffic for an hour to our place just North of downtown…but the car had AC and it was interesting to see the city sprawl). After getting settled in at your hotel, we recommend you take a dip in the pool to get the travel grime off you (at our accommodation, the pool which had a pretty impressive view as well).
After you (and the city) have had a chance to cool off, we recommend you make it to sunset at one of the numerous rooftop bars in the city (though we enjoyed it from our pool). We heard that the Heli Lounge Bar is pretty nice, but there are iconic views of the Petronas Towers from SkyBar on the 33rd floor of the Traders Hotel (we went after dark, but you get the idea).
After your sunset drink, we recommend one of the terrific dining options in Kuala Lumpur. While there is certainly cheap Malay/Indian/Chinese food available from numerous hawkers, we recommend those needing a break from Asian street-fare to enjoy one of the higher end offerings. We ate at Ippudo, Din Tai Fung, and Dining In The Dark and would heartily recommend any of them.
After dinner, we recommend a visit to the Petronas Towers. You can take a Grab/taxi to get there if you have the patience for the persistent traffic, but Kuala Lumpur also has elevated (and air conditioned) walkways, tunnels, and malls that make for a unique stroll as you move around the downtown core. Once you get to the Petronas Towers, make your way around back to the park (see the fountain show if you can), but also get some amazing shots at night (without the heat and swarms of other tourists that crowd the site in the day).
Day 2: Countryside Tour featuring the Batu Caves
For your only full day in Kuala Lumpur, we highly recommend that you get out of the glitz and concrete of downtown KL to experience the rural Malaysian countryside. To get the most out of this kind of trip, we recommend that you hire a private car with a tour guide (though you could try your hand at a self-drive if you are on a tighter budget). We can recommend KualaLumpur Travel Tour as a good value for money tour operator (though a day will set you back 400 MYR or $100). They have many different tour options most with lunch/dinner included), but make sure that you see the Batu Caves (though you can see these yourself via the train).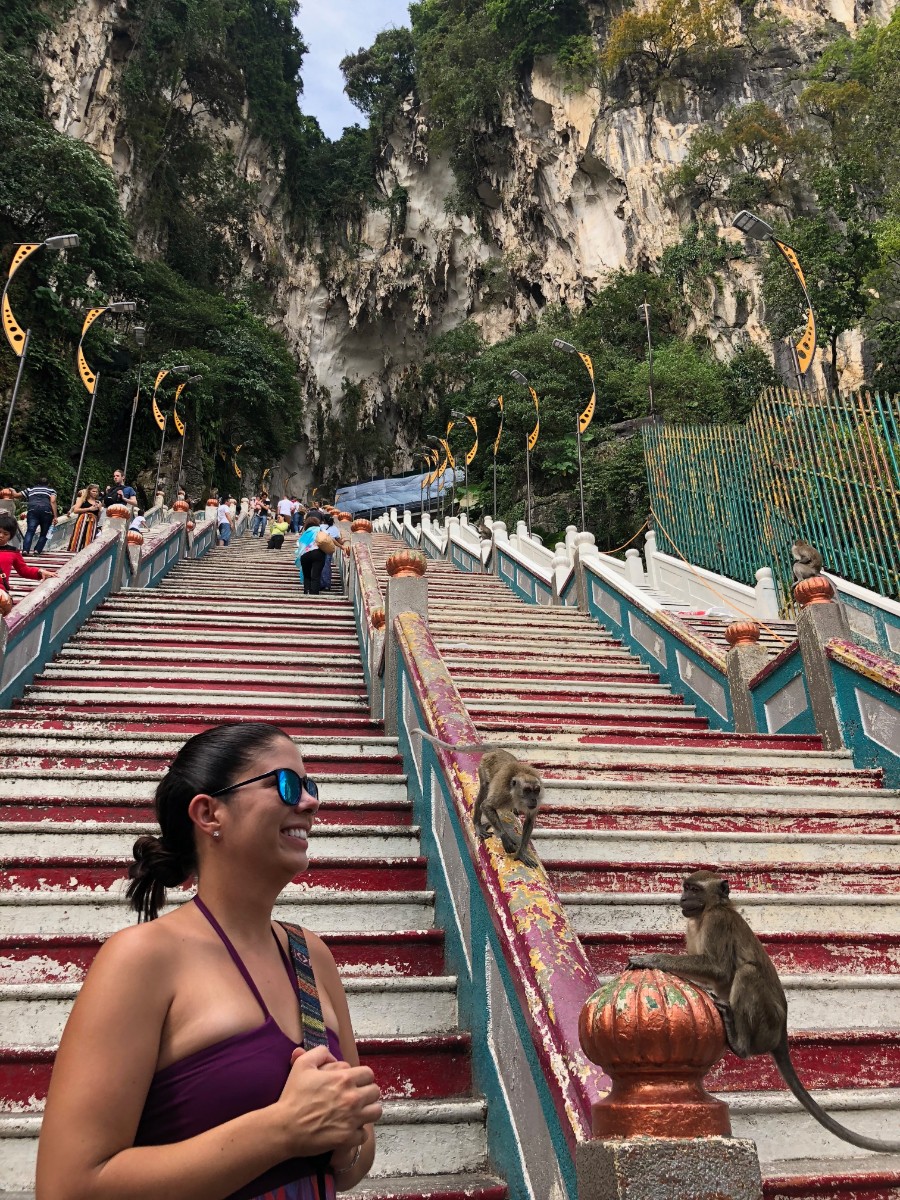 As the cultural sightseeing highlight of Kuala Lumpur (ironically it is a Hindu site in a mostly Muslin region), the Batu Caves are a must for anyone. The most iconic element of the site, the world's tallest statue of the Hindu Lord Murugan, stands at 140 ft (over 40 meters) and was completed in 2006 from 1,550 cubic meters of concrete, 250 tons of steel bars and 300 liters of gold paint. Equally inspiring (since you have to climb them) are the 272 steep steps up to the Batu Caves behind the statue. While the climb is part of the religious experience in itself, the caves above offer an interesting site that blends Hindu worship with natural elements. There are actually 3 separate limestone caves in the religious part of the site (spoiler alert, more steps to see the second two caves) as well as a naturally dark cave that can be explored via a 35 MTR (~$10/person) guided tour for 45 minutes, if you have the time. While the caves themselves were impressive but not amazing, the experience of posing with the Lord Murugan statue, climbing the steps (while dodging the monkeys), and entering the caves to the sounds of traditional music were very much worth the trip.
After the Caves, there are a number of sites worth of your time – Templer's Park, Selayang Hot Spring, Kuala Gandah Elephant Sanctuary, Deerland, the Silver Leaf Monkeys, and the Kampung Kuantan Fireflies – as well as myriad smaller temples and other attractions. You will have to read up on what appeals to you, but we decided on feeding the Silver Leaf Monkeys and a nighttime boat ride among the Kampung Kuantan Fireflies. While the firefly pictures didn't turn out for us, the experience itself was pretty cool as you get taken via boat down a river where the fireflies twinkle in the mangroves that line the shores. Also entertaining (and far easier to photograph) are the Silver Leaf Monkeys at Bukit Malawati Hill. Different than the more aggressive monkeys that we had become more accustomed to in Indonesia (and at the Batu Caves), the Silver Leaf Monkeys were almost polite as they came to solicit food from you. This place is a guaranteed laugh (though Matt is not quite sure he is proud of the very high octave his giggles reached).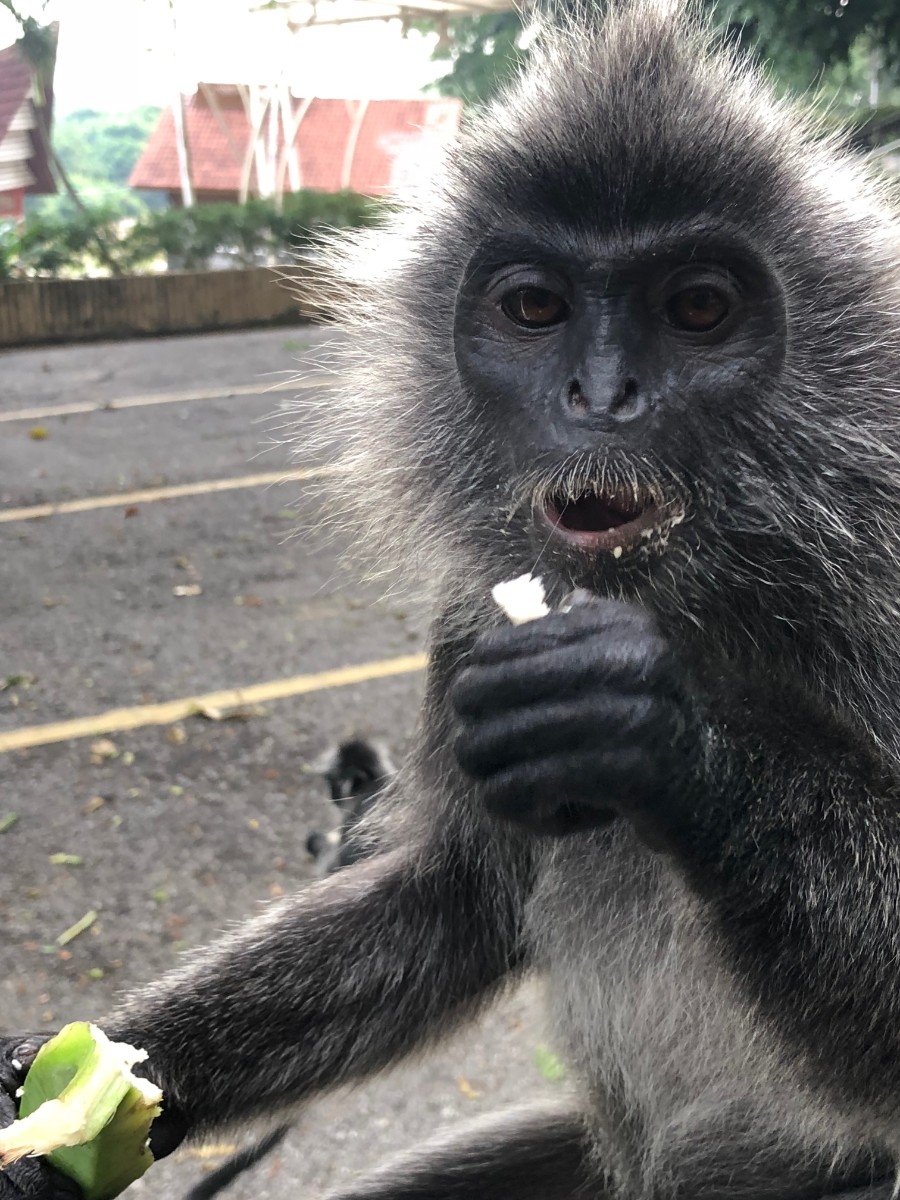 On the way home, we really enjoyed getting to connect with the tour guide who offered a Hindu perspective on the rapid Muslim takeover of the country. While far from the crisis level that racial, ethnic, and religious tensions have reached in other countries, his stories made us consider our own privilege and many of the freedoms that we take for granted. Connection and introspection are two important elements of why we travel, so we were vey grateful for his candor. (note: we didn't include his name or photo here to prevent him from getting in any trouble)
Day 3: Shop then Depart
On your last day, we think you should give in to the temples of commerce that abound throughout the city. Fundamentally, there are two types of tourist shopping options: high-end and low-end. At the high-end, there are many 10+ story malls with hundreds of stores from all the major international retailers (from couture to fast-fashion) for you to browse until your credit card limit is hit. Just don't expect to find any kitschy souvenirs or bargaining here as these malls take themselves pretty seriously. Tip: most of the malls have the same retailers and prices, so choose the one most convenient to you. However, if your flight leaves in the afternoon, the Mitsui Outlet Park is a mall with free luggage storage and dropoff at KLIA that might have some great bargains (the mall opens at 10a so we didn't have time to see it before our 11a flight).
The other option are the low-end hawker malls. Don't let the name throw you off, as these hawker stalls are probably what you picture in your head when you think Southeast Asia and have great bargains on everything from t-shirts to souvenirs to fake sunglasses/purses/watches (you just have NO IDEA how many different ways the Petronas Towers can be used to sell useless crap). The best of these are probably the Petaling Street Market (which is not air conditioned but has the best prices) and the Central Market (which is air conditioned but has more limited selection and less bargaining room). Despite our attempts to always travel light, we loaded up a bit on gifts for people back home.
After that, it's off to the airport for your next destination. We're not exactly saying that Kuala Lumpur is a 'not to be missed' destination, but we think you can have a pretty great couple of days here.