10 Top Hidden Gems in Bali
Getting off the beaten path in Bali rewards visitors with rich history, ancient culture, and myriad wonders.
hot take: Seeing the unimagined is why we travel…the hidden gems of Bali delivered more than we could have ever hoped. (5.0 stars)
pro tip: Make a plan so you can be at these sites either early or late to get to really connect with the place (instead of just tripping over other tourists). (aside from our #1, which was surprisingly empty mid-afternoon)
Like many places, many of Bali's best attractions are hidden and take dedicated exploration to find. ("You mean they didn't put all the interesting stuff next to the beach?"…yes, that's exactly what we mean)
While most visitors will never make it off the beach, we think that is a shame because the rugged interior of Bali has most of its memorable and important sites. It could be argued that truly experiencing all of Bali's hidden gems would take a lifetime, but we have assembled a quick list of top highlights that you can see in a few daytrips. We recommend that you pick out your favorites, then hire a dedicated driver to see 4/5 sites per day (there were a few to choose from on Tripadvisor…each for 600,000 to 800,000 IDR (or ~$50) per day). A good driver will not only take you to the sites but will also explain Balinese culture to you while you travel (in AC) from place to place.
Hidden Gem #10: Goa Lawah Temple
The Balinese have many different types of temples, including temples dedicated to animals. At Goa Lawah, the celebrated animal is the bat. However, where most Balinese temples have just a likeness or representation, Goa Lawah is constructed at the entrance to an actual bat cave with tens of thousands of bats living inside. Bali's coastline is actually lined with bat caves (but don't be afraid since the bats come out every night to help clear the air of pesky insects) and Goa Lawah is dedicated to praising them. While you cannot actually go into the cave, the bats are easy to see which makes Goa Lawah one of the most interesting religious sites we have ever been to.
Hidden Gem #9: Goa Gajah Temple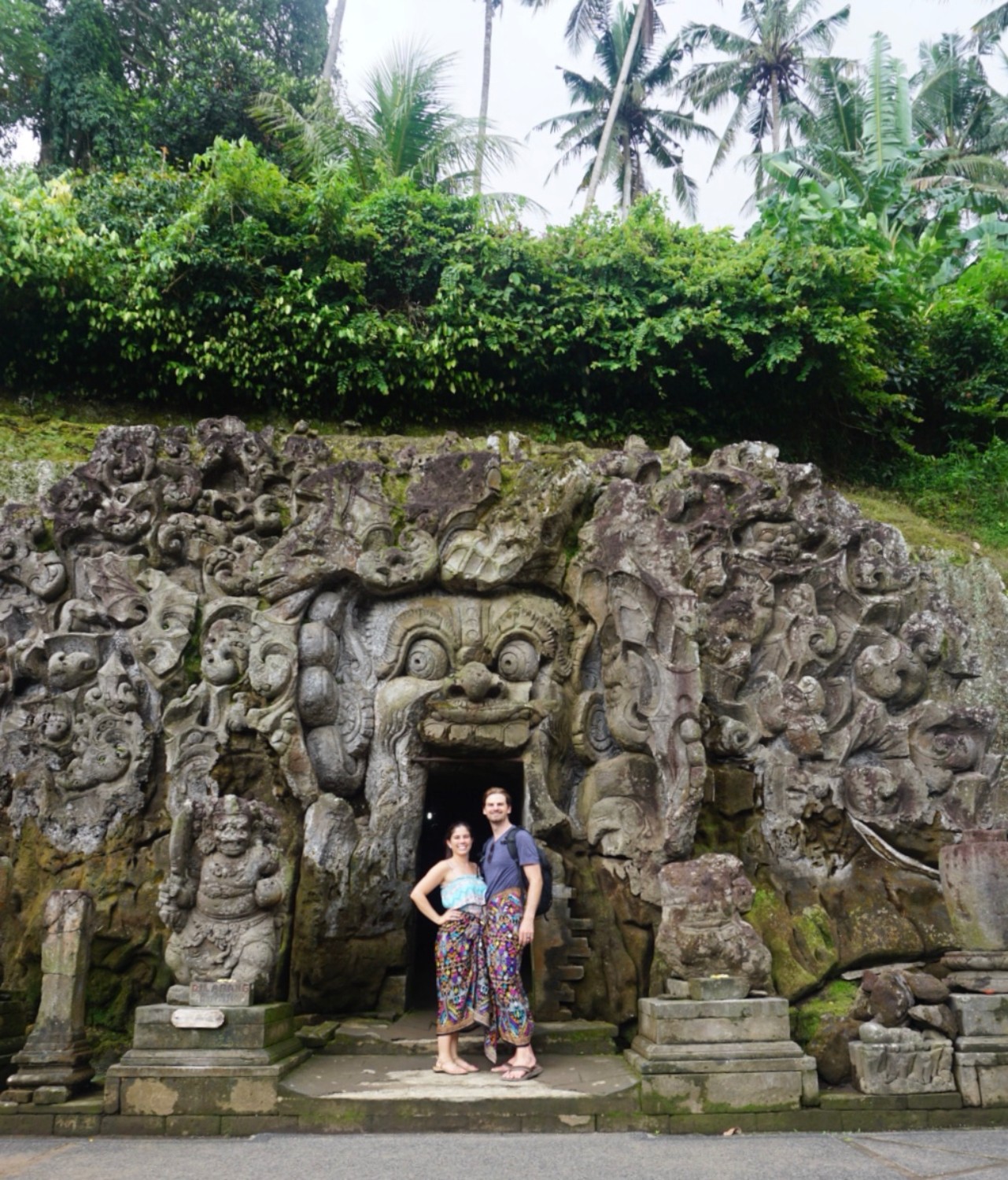 This elephant themed temple is just a short drive from Ubud, but it feels like you are out in the country. While the temple itself is worthy of your time and features an interesting cave, there is a little warung/café called Layana Warung that is just outside the temple grounds with some of the best waterfall views you could ever hope for (and good prices too).
Hidden Gem #8: Luwak Coffee Plantation
When in Rome, or so the saying goes… Luwak coffee is not something that we ever thought we would try (for the uninitiated, the coffee is made from coffee beans that had been swallowed by a cat-like creature called a Luwak then defecated, collected, cleaned, then roasted and ground into coffee). It is relatively expensive (because the cat droppings are collected and processed by hand), but a cup at a coffee plantation only cost $5 so we figured what the heck (note: the rest of the coffee tour at Kopi Luwak Baturiti was very educational and included 10 different coffees and teas to drink…all for free, so we considered the price of the Luwak coffee as basically a donation). As for the taste, the Luwak coffee was pretty solid with nothing funky about it (though we enjoyed the teas more, since we are tea people). Note: most of the Luwak coffee sold at cafes or grocery/souvenir stores is only 10% or less Luwak (regardless of how it is labeled), so go directly to the source to get the pure "Cat-poo-chino".
Hidden Gem #7: Taman Ayun Temple
Built in celebration of a great military victory in the 15th century, Taman Ayun was the seat of power of this region of Bali for many centuries and features a large moat. Today, the temple grounds offer a glimpse into the traditions of the past in a very nicely restored/maintained setting (which makes for a different feel from the 'ancient and falling apart' feel that some of the other temples have). We were there at sunset and basically had the whole place to ourselves (which was great!).
Hidden Gem #6: Tegenungan Waterfall
Most of Bali's waterfalls are in the far North of the island where the valleys are particularly rugged, but there is not much else to lure a tourist all the way up there. However, there is one fairly impressive waterfall between Denpasar and Ubud that should satisfy anyone who thinks 'I'm not leaving Bali until I see a waterfall'. Tegenungan Falls, a 75 ft (25 meters) tall water cascade, entertains visitors willing to trek down (then back up) the 127 steps to the river with a roar and a swimming hole. All in all, it is a pretty nice walk on paved paths and the waterfall moves a substantial amount of water. Note: there is also a small waterfall on the hike down that you can actually bath in (and get some pretty fun pictures too).
Hidden Gem #5: Lempuyang Luhur Temple
One of the highly regarded temple complexes in Bali, the Lempuyang Luhur site sits 2,000 ft (600 metres) high above sea level at the peak of Mount Lempuyang. As one of the Bali's holiest directional temples, the site actually contains a number of temples that work their way ever-further up the mountain. The hike up (and down) left our thighs burning, but we were rewarded with terrific vistas of Bali. Unfortunately, our afternoon hike time meant that our iconic shot out the main gates towards Mount Agung was partially obscured by clouds, but we had fun with it anyways (note: we recommend that you go in the morning to get clearer weather).
Hidden Gem #4: Bali Swing
Definitely a tourist trap, but for the you-only-live-once crowd nothing quite compares to the pictures you can get at Bali Swing. For $35 each (or $10 each if you don't use the swings), Bali Swing lets you soar on 4 giant swings over a hundred feet (up to 78 meters) off the ground. While your entry price also includes a lunch buffet, drinks and access to various objects to pose on, the swings over the valley featuring a river and (man-made) waterfall are the stuff of Instagram dreams. Arrive early as the mostly Chinese crowds descend like locusts by 11a (or after 4p) and the site gets crowded (which hurts the 'I'm-alone-in-the-jungle' illusion you are trying to create in your photo). At 7 times the price of the rest of the Gems on this list, Bali Swing is damn expensive…but (as the kids say) YOLO!
Hidden Gem #3: Ulun Danu Beratan Temple
This water temple on the shores of Bratan Lake in Northcentral Bali was one of the most beautifully sited temples that we have ever seen anywhere (not just in Bali). The photo opportunities are stunning, but what the pictures fail to capture is the idelic peacefulness of the lakefront setting (and the cool breeze). While other Balinese temples might be more impressive, Ulun Danu was easily our favorite temple visiting experience.
Hidden Gem #2: Tirta Gangga Palace
A former royal palace in eastern Bali built in 1948, Tirta Gangga is now best known for its elaborate water gardens featuring am impressive collection of mature koi fish. As one of the places that we enjoyed even more than the photos let us to believe, jumping from platform to platform while the fish swarm around you will be a memory that lasts with us for a long time. Tirta Gangga is not very convenient to anywhere else, but if you can make it…it is a MUST SEE!
 
Hidden Gem #1: Jatiluwih Rice Terraces
Without any debate, our favorite hidden gem in Bali was the Jatiluwih Rice Terraces. Now, it is hard to call any site that was once a UNESCO Cultural Heritage Site candidate and is featured in every Top 10 guidebook list a 'hidden gem' but this amazing display of color and agricultural engineering is not very heavily visited (we were totally by ourselves at the site after just 10 minutes of walking). Located at 2,000 ft (about 700 meters) of elevation in the dead center of Bali, the Jatiluwih Rice Terraces are simply stunning (and we were in Peru last year so we have seen some pretty impressive terraces). These rice terraces are (at the same time) massive yet intimate, complex yet simple, and advanced yet primitive. This is one of those places where the place makes you see small while also filling you till you might burst with life. We quickly realized we didn't know enough words for the colors of green (it's THAT kind of place and makes you ponder things). If you didn't see the Jatiluwih Rice Terraces, then you didn't see Bali (you just went to the beach).